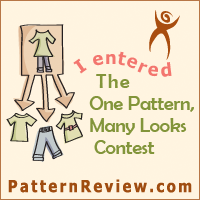 January is usually a pretty quiet month and expecting plenty of sewing time ahead I entered the Pattern Review One Pattern Many Looks contest back at the start of the month. Things have gotten a little more crazier and I promise I will post about that soon.... are you on tender hooks yet? I'm still intending to enter the OPML contest but I had originally considered entering 6/7 items but I think this may have to be scaled back a bit but we will see how I get on...
When I learned of the One Patten Many Looks contest (take one pattern make as many different versions of chosen pattern as your heart desires, minimum of 2, using minimal pattern cutting skills, to even the playing field) I thought this sounded ideal for me to kick start 2013s sewing, I know many sewists hate the idea of sewing the same pattern more than once but my philosophy is if you have taken the time to alter the pattern and gotten the perfect fit you may as well get your mileage out of it. A quick peak in my wardrobe reveals 2 Burda Kasia skirts, 3 pairs of wide-leg trousers made from my own pattern and 4 (yes 4) dresses based on the contour bust dress also from the Burda style site.
So I know I'm happy to keep sewing the same pattern but what to make? After a quick delve in to my pattern hoard I came up for air with Simplicity 2451, I brought the pattern over a year ago on the basis that view C is almost identical to my go to denim skirt I brought about 5 years ago and still wear regularly, even though it has the usual fit issues I have in the bum area of all RTW. So what could be better than my favourite skirt except with better fit and more various fabric options?
So with my pattern chosen I have decided to impose one more rule upon myself. Everything I use in this contest must come from my stash, everything! My stash is huge! Humungous! Fabric, buttons trims, zippers! and over the past few years I have put far more into it, either through purchases of donations from friends and family, than I have taken out of it to produce wearable garments and it has become pretty daunting just looking at it... But I know I have some great stuff in there, now is the time to make some great stuff from it!